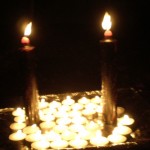 Got Troubles? Nosy neighbors keep bothering you? Jealous co-workers thwarting  your success? Family and ex-lovers or ex-spouses bugging you? Then eliminate all their negative influences that occurred in 2018 so that you can start 2019 fresh and new!
What is the Banishing Negativity Burn Ritual?
The Banishing Negativity Burn has been performed for over 10 years or more as a way to rid yourself of anyone's evil ill-will and ire, so that you can start 2019 cleansed and clear of their evil machinations and jealously that seems to be holding you back for advancement and success. This ritual is designed for you to target the source of your negativity (your intended victim) and with a photograph, a name, and a brief description of what they did to you, your poppet doll will be fashioned to be the carrier of this evil into the burning pyre at midnight New Year's Eve, so that you wake up January 1st ready to start the New Year fresh!
Poppet Dolls – $25.00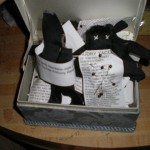 To order a Poppet Doll, which is a hand-made black "doll" that you will have me personalize with a photograph (if available), a name paper, and a brief petition paper, that I will attach prior to the burn. You will receive a photograph of the finished poppet doll, then photos of the actual burn, in an e-mail to you the next day, so that you can begin to walk a clearer path to a bright future. Each poppet doll is $25.00. This is a very exclusive ritual that only a few people can participate. There is a total of 24 poppet dolls, and once these initial poppet dolls are spoken for, there will be no more created.
NOTE: IF YOU CHOOSE TO SEND A PHOTO, IT MUST BE OF THE PERSON GIVING YOU GRIEF – NOT OF YOURSELF OR A LOVED ONE FOR WHOM YOU HAVE PURCHASED THE POPPET DOLL.
 ~~~~~~~~~~~~~~~~~~~~~~~~~~~~~~~~~~~~~~~~~~~~~~~~~~~~~~~~~~~~~~~~~~~~
Tealight Candle Service – $1.50 ea.
The 2018 Banishing Negativity Burn Tealight Candle Ritual is a simple, small white tealight candle that has been anointed with Banishing Oil and burned with a brief petition to clear out any ill will, ire, envy, and negativity that is clinging to a person from known and/or unknown persons. This ritual cleanses you with the offering of fire to "right all wrongs" that you have done or that may have been done on you, so that the New Year begins fresh and new.
Each candle is specific to one person, so a name and a brief petition for cleansing will be asked from you once you have ordered. The candles also become the flame in which the Banishing Burn Poppet Dolls are ignited. Photos of your candles burning together with others will be submitted to you 1-2 days after the ritual.
Order your Tealight Candle service here: (one person per candle)
~~~~~~~~~~~~~~~~~~~~~~~~~~~~~~~~~~~~~~~~~~~~~~~~~~~~~~~~~~~