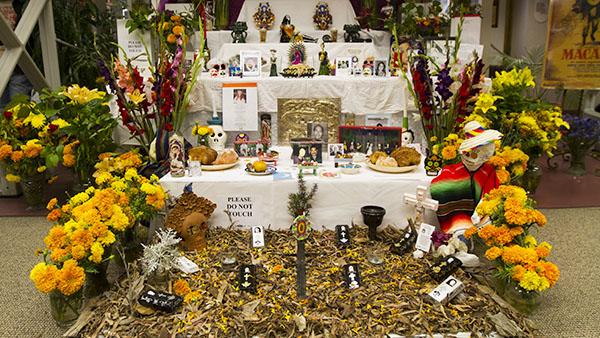 sample of outdoor altar for Dia de los Muertos in Mexico
Ancestor Altar Offering – November 2, 2020
We come together on the day when we pay respect and honor our family lineage that came to Earth before us and are the reason we are who we are today. The celebration of remembering our dead dates back to early times, when it has been said that the dividing curtain between us the living and our ancestors is translucent and it is a time that we may be able to communicate with them in some cases. The Catholic Church calls this day All Souls Day, a designated Day of Remembrance.
I am also creating an outdoor altar for remembering our loved ones that has passed and I invite you to join me in thanking our Great-Grandparents, Grandparents, and Parents for bringing us into to World. This is a time to let them know that they are missed, and we offer sweets, beverages, and tobacco to appease them, show our love and thankfulness, and ask for their blessings as we move forward in this life.
The Ancestors altar is for bloodline or marriage related family members. It is not for friends and acquaintances as you do not have an ancestral connection to them. You may order a Remembrance Candle and it will be lit for your friend and set on an adjunct table nearby. Please look for the drop down tab on the order form.
How Do I Participate in the Ancestors Altar on November 2nd?
Order an Ancestors candle and send me a photo of your family member that has passed with their name. It is tradition to have one candle for each family member, however, I will offer to you a Family Remembrance Candle (no photos) that I can bless for your whole entire family that has passed. This candle will be labeled "The ___________ Family (insert last name)"
Each candle will be ritually cleansed, incensed, and lit for you. You will receive a photo of their candle when it has been lit, and then once again when it has finished. A portion of your purchase will go towards the fruit, sweets, libations and tobacco that will also be offered to them.
After the altar has been laid with the offerings, candles will be placed (after  being photographed) and incense and tobacco will be smudged and wafting over the table. Prayers for the Dead will be recited and each participants ancestors name will be mentioned. A complimentary hand out will be mailed to you after the service for you to keep for your memory.
There is also an additional button to make an additional offering for the food and flowers, drinks and sweets.
Cost for each Ancestors candle is $20.00. Please order below.

* * * * * * * * * * * * * * * * * * * * *