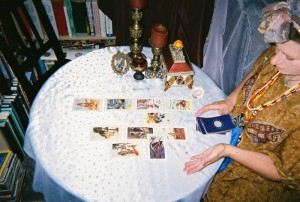 All readings are by appointment only. This way, I am available to only you at your appointment time without interruptions or distractions.
Please check the calendar and choose your time at:
Order A Reading
Please note that this calendar schedule changes throughout the year depending on season and scheduling demands.
Tues., Weds., Thurs., and Sat. – Please check the calendar as these days change frequently
Please note: In the event of a missed appointment that is of your doing, I will wait 15 minutes for you to return a call or to arrive for your reading. If I do not hear from you within 15 minutes, I will refund you $10.00 and keep the remainder for my time. Please make sure you are available a the time we have chosen for your reading. Many times it is assumed that tarot readers do not have a schedule. This is far from the truth. Professionals such as Doctors and Attorneys keep a schedule to devote certain time blocks to their clients. I follow the same philosophy and respect you and your time with me in consultation. Please be prompt in your arrival or near your telephone for your reading at the appointed time. Thank you.
Closed On These Holidays
New Year's Day, Valentine's Day, Mardi Gras (Fat Tuesday), Maudy Thursday,
Good Friday, Easter, Mother's Day, Father's Day, Independence Day (July 4th)
Halloween, All Saints Day, All Souls Day, Thanksgiving Day, Black Friday (Nov. 25th)
Christmas Eve, Christmas Day, and December 26th
and on days of Psychic Fairs and Private events in 2014
Feel free to contact me if you any questions.