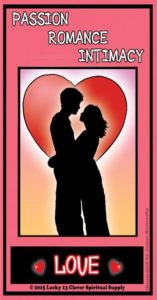 We have started but e-mail me at
tarotbyjacqueline (at) yahoo (dot) com
and ask if there are any spaces left.
February is traditionally considered one of the "Months of Love" (with June being another one). These two months have a lot of traditional connotations with relationships and the matters of love. Because of this, it is natural to introduce the Bring in the Love! Month-long Candle Burning Service. This is a new 30 day candle service that was created for those who want to work through their love situation and brings in a new lover or to enhance the one that they are currently in.
HOW CAN THIS CANDLE SERVICE ASSIST YOU?
* Use this candle service as a 'beacon of light' to bring in new possibilities in love
* Bring in optimism and positive thoughts to use as an "attractant" for love
* Reduce and remove any confusion on your love 'goals' – and how to overcome them
* Influence someone that you love – or would love to love
* Influence someone to see things "your way"
* Bring clarity to your mind regarding a love matter
* Aid and Assist in bringing back love in a seemingly impossible situation
WHAT TO EXPECT:
This is a 30 day candle burning service that you will have a 7 day "novena" type vigil candle lit for you each week for four weeks with your personal petition on it. Each candle will be prayed over each morning and again each evening for the 30 days. A current photo of yourself, you and your mate, or you and your current love interest is required.
In addition, you receive a group candle photo with all the candles lit together, and at the end, all four of your own candles will be photographed side-by-side so you can see the progress in your candle spell service work.
You will also receive a daily inspirational e-mail from me with a short mantra or meditation to consider chanting or thinking of as you go about your day. We will work on things that may keep us from fully embracing or accepting love and how to make love grow – within ourselves as well as with our loved one.
Note: Please read note above
Order Here!