30 Minute Quick Questions/Answers Tarot Reading by Telephone
$40.00
30 minute Questions & Answers
Telephone Tarot Reading
 Monday – Tuesday – Thursday – Friday
Remember to book at least 6 hours for same day readings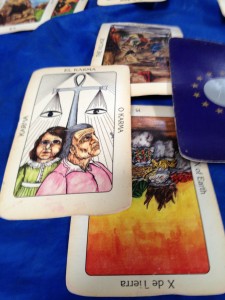 Many of you have just a few questions to ask regarding a certain situation and/or want clarity on an event that just occurred. The 30 minute tarot reading is for you!
With this reading, you have a specific topic or situations that you want to focus in on. We then ask the question of Obi first, in order to get a "Yes', "No", or "Maybe" answer then, we pull three cards to give insight as to why the event or situation occurred, the background or basis of the concern, and the outcome or ease of getting through the situation. Again, this is not a full reading like the one hour reading but a way for you to ask specific questions on a subject or situation and getting guidance from Obi divination and Tarot.
With this reading, you may ask as many questions regarding your situation as time allows, with each question being asked in the methodology described above.
NOTE: This is a telephone question and answer tarot reading consultation. There are no in person readings being offered at this time.
PLEASE READ THE CANCELLATION AND REFUND POLICY PAGE BEFORE ORDERING
You can read it by clicking this link:  https://tarotbyjacqueline.com/tarot-by-jacqueline-cancella/