EARLY BIRD SPECIAL! One Hour Tarot Reading by Telephone at 10 am Eastern/ 9 am Central/ 7 am Pacific
$45.00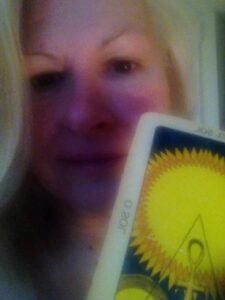 Remember to

book in 6 hours

in advance 
(time on calendar will show Eastern time)
 

NOTE: Residents of CA, OR, WA, HI, and AK must be available at 7 am pacific time
Early Bird Reading Special
7 days a week!
10 am Eastern/ 9 am Central/ 8 am Mtn./ 7 am Pacific
(time on calendar will show Eastern time)
Remember to book in

 6 hours

in advance 

* Effective 08/2021 PLEASE be respectful of our time together, as I can no longer wait for your appointment if you are running late. It is simply not honorable to you and myself to wait and if this occurs, I will be forced to cancel our appointment and issue no refund. There are no changes available to this policy. Your time is respected by me calling on time, and you respect me by being ready on time.
* * * * *
This special* is for those "early birds" who want a reading before getting on with your busy day! Get a delicious coffee or tea and let's plan and strategize that new vision you have for your life while tackling the issues you are going through.
This reading is everyday at at 10 am Eastern/ 9 am Central/ 8 am Mountain/ 7 am Pacific and cannot be changed for any other time slot.
Please make sure you are available at this early hour when you book in as there is no rescheduling/refunds available.
** This time only – no time change/rescheduling available for this special time slot