NEW! Weekly Tarot Reading Subscription – 30 minutes check in each week! – (1 time/wk. for 4 weeks total)
$100.00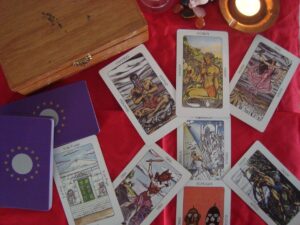 Weekly Readings Sunday
30 minutes each week   
(
times available are given in e-mail after ordering) 
$100.00/ month
Once order has been placed
we will set up time slot for
your personal weekly check in reading
This new offering from Tarot by Jacqueline is for those of you that are working on a particular situation and would need a weekly tarot divination on the events that occurred and the outcome of the work you are doing on it.
These weekly 30 minute check ins are on Sundays only, as this is a time that you can reflect on the past week and prepare for the next one. The session is for you to ask questions on situations** and receive answers and develop strategies to do work on for the next week or what might come up for you in the next week.
These readings are scheduled at the time of ordering and cannot be changed due to the committment for the time involved. In order for your weekly readings to be successful, a dedicated time slot needs to be chosen that works with your schedule. 
Once order has been placed you will receive an e-mail to set up time slot for your personal weekly check in reading*
*  Each time slot is saved exclusively for each participant and they are responsible for keeping this time. There are no refunds or rescheduling due to time constraints. Please make sure you can dedicate 30 minutes each week to your reading.  One situation** to each 30 minute time slot. 
** A situation is one event or subject that you re involved with or working on at the time. The subjects could include personal relationships, career, education, family, enemies, personal challenges and more.

I will have a note folder  for each situation for future reference for spiritual remediations, if necessary, are needed.