Sale!
Sunday Special! New Client One Hour Tarot Reading – $30.00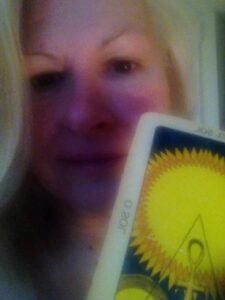 Each Sunday at 7 pm Eastern/ 6 pm Central/ 5 pm Mountain/ 4 pm Pacific – $30.00*
Welcome new friends!
This is a special for you! Experience a tarot reading unlike no other at a special price for your first appointment with me. Each Sunday at 7 pm Eastern/ 6 pm Central/ 5 pm Mountain/ 4 pm Pacific, I will be speaking with you over the telephone, giving you an honest and insightful tarot reading to aid and assist in reaching your goals in all aspects of your Life.
Book in up to one year in advance for your reading at a special price.  One special per person please, so others can experience it. Tell your friends and family about your reading with me and have them book an appointment.
Please remember that there can be no refunds or rescheduling of this special, so please plan accordingly to be available on your date chosen. I will send you two confirmation e-mails – one when I receive your appointment notice and one within 24 hours of your appointment time as a reminder.
* Effective 08/2021 PLEASE be respectful of our time together, as I can no longer wait for your appointment if you are running late. It is simply not honorable to you and myself to wait until you are finished with other obligations to have your reading. If this occurs, I will be forced to cancel our appointment and issue you a $10.00 refund. There are no changes available to this policy. Your time is respected by me calling on time, and you respect me by being ready on time.