Tarot by Jacqueline | 5 Question Written Reading
$35.00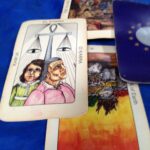 A five question written reading is now available for International visitors!
Order a written reading, and then I will contact you through e-mail to ask your 5 questions. Questions must be about you – not other people – and I will answer with a written report 5-7 working days after receiving your questions.
NOTE: Once you have ordered,  I will send an e-mail for your questions. I will then do your reading and type a report and send it to you within 5-7 business days after receipt of questions. Please do not send lengthily stories or a history of the event, as I do not read them except the actual question.