NOTE: This service has been postponed until restrictions are lifted due to COVID-19.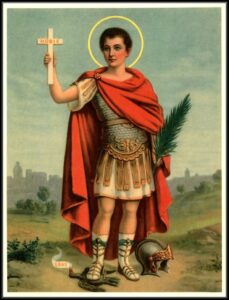 Saint Expedite, beloved of many residents of New Orleans and other places, is the patron saint of people who have faith in his rapid solutions to their problems, who want immediate financial success and those who want the delays and procrastination of situations to cease so that forward movement to an end can be seen. Some petition him to aid and assist in overcoming bad habits long needed of change. His feast day is April 19th and many set up altars, burning candles and giving offerings in his honor.
The celebration of the feast day of Saint Expedite, beloved patron Saint of New Orleans, will commence with a 7 day candle burning service for those of you who have an issue that has stopped in it's tracks or is being held back because of procrastination.
Some of the reasons to consider a St. Expedite candle service:
* When your boss is procrastinating on a raise or promotion
* When you are waiting on a settlement or a payment to come through
* When you cannot receive an answer so that you can make future plans
St. Expedite is popular in Italy, Spain. Portugal and Latin America, as well as New Orleans, LA, where a statue of Expedite is stationed in the Church of Our Lady of Guadalupe on Rampart Street (pictured above). Legend has it that when the construction of the Church had finished, the priests sent an order for statuary to place in the Church. One crate arrived with the words "EXPEDITO" (meaning to rush, hurry or "expedite"). The priests thought that the word "EXPEDITO" was the name of this statue was Expedite; hence the legend was born. There are statues of St. Expedite worldwide, thus creating more of a mystery on who this Saint really is!
When you order your St. Expedite candle to be burned for your particular situation on April 19th, you will be asked the specifics of the situation that you are ordering the candle in order for a personalized prayer petition to be created for you. At the beginning of the 7 day  candle burning service, you will receive a group photo of all the candles on the altar. At the conclusion of your personal candle service to St. Expedite, a photograph of your end candle results will be sent to you with special instructions to do the thanksgiving rite for St. Expedite when your wishes have been granted.
You may consider burning more than one candle for more than one situation or burn one for a family member who si going through a tough spot.
The cost for this candle service on April 19th is $20.00. Multiple candles receive a discount. Order your candle by clicking the button below:
This candle service has been temporarily paused for the COVID-19 guidelines. It will be re announced in the near future.
All proceeds of this candle service will benefit the All Saint Chapel construction fund.