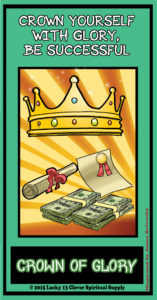 The Success, Success, SUCCESS! Candle Burning Service will begin March 1, 2020. This is a 30 day candle vigil for you to attain success in scholastic achievements and professional career areas of your life.
Think of it as a "Spiritual Boot Camp" for your employment, career, educational goals, and anything related to you and "the Grind!"
Some reasons for burning a 30 day candle vigil for your career:
* When you feel that you are being 'passed over' and you are not being recognized for your efforts
* When you have been applying for jobs like mad and the calls are just not coming in
* When you are in school or a training program and you need a 'spiritual boost' to get it done
* When you are ready to open a business or increase your business
* When you need strength to make that major change in your career
What is the Success, Success, SUCCESS! Candle Vigil?
Just like my wildly successful 30 day Prosperity and Love candle vigils,  you will have a candle burning for you with a specific petition that is to add light to a career or job situation that you want to move through and move upward from and go on the achieve more. Along with your candles, you will receive a Daily Inspirational Message and a sentence for you to pray with or meditate on throughout that day. Science says it takes 27 times for a person to hear a message before changes come, and we can activate that Greatness in you with this candle burning service.
The cost for this 30 day candle burning vigil service for you is $50.00. Order your candle service here:

CALL JACQUELINE FOR QUICK READINGS
1 – 877 – MSJACKI