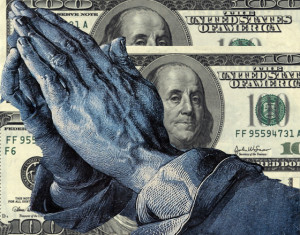 The time is here to make substantial positive changes in your financial life and secure blessings for a new future!
The 2012 Prosperity Experiment will begin on Monday, January 23, 2012.
The year 2012 will bring in new changes for the positive. While we have heard about these changes coming in the past few years, last year we seemed to have had to "hunker down" and pull through 2011. Most of us made it, one way or the other, and we are stronger and wiser because of it. Change is good but some can be scared of new horizons and new challenges. We who have weathered 2011 are more than ready to achieve more than before.
This year marks the 5th year that I have been hosting the Prosperity Experiment. This event grew from a core group of readers who wanted to really make financial change in their life – and it has! Readers have sold their homes for profit, received promotions, became employed, won at games of chance and started back to training and education that would secure them a bright future while having candles burned on their behalf.
The Prosperity Experiment is a 30 day commitment from you and I to use the power of Prayer to bring in necessary money and prosperity to the home. this 30 days of candle burning and daily inspiration will "jump start" the cash flow from all potential sources to you if you enter the session with sincerity and faith in the belief that you are destined to receive and be blessed as you continue to bless those who are around you.
What happens in the Prosperity Experiment?
The Prosperity Experiment is a 30 day candle burning service for you and other like-minded readers who want to activate money from all sources to start streaming into their lives. For 30 days, I burn candles for you with your petition under the candle and you will receive a daily inspirational story, thought or concept plus a Daily Meditation to pray upon as you go throughout your busy day. In addition, you will receive various down loadable books and posters, and each money altar will be set up and photographed for you. The candle altar is prayer over both each morning and each night. Each candle photo sent to you will include a brief description of the conditions of their burn, whether it was positive or if there were some spiritual disturbances, and the knowledge that someone is praying for your financial blessings to come to you.
How do you become one of the "Blessed"?
Order your participation in the Prosperity Experiment by using the click box below. You will be given materials to get you ready to Receive, such as a down loadable copy of an e-book, "The Science of Getting Rich" by Wallace D. Wattles, a favorite amongst prosperity thinkers. There will be other goodies sent to you throughout the month to use to boost your abundance and prosperity.
Order your slot in the Prosperity Experiment now!
We have begun the Prosperity Experiment and will be having our second event in July 2012.Please look for announcements in June.