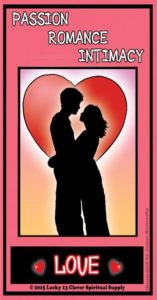 Greetings!
February is the month for love, love and more love! I am burning candles for self love and to rekindle loving feelings for couples and if you want a candle burned to draw in the lover or spice it up between the two of you, let me know. You can text me at 916 – 284 – 5552 and I'll answer shortly thereafter Or order online at
Candle Burning Services | Setting of Lights | Ritual Candle Spell Services
* * * UPCOMING! * * *
All Valentine's Week – Feb 7th to 14th!
$14.00 for the first 14 minutes (that's $1.00/minute with $2.99/minute thereafter)
1 – 877 – 675 – 2254
**********************************
Spicing up your love life with food is nothing new. The mouth, a sensuous receptacle of sensations, is one that we can relate to from the moment we are born. We emit sounds from it, we take in nourishment with it, we use it to express inner emotions, it is truly one of the best ways to communicate feelings to one another.
With movies like the 2000 film "Chocolat" with Johnny Depp, the exploration of the sensual and food heightened the appeal of using food as a catalyst to great lovemaking experiences. Here is a recipe that will make your senses tingle as it is sweet and spicy all in one bite!
We use traditional hoodoo spices in our brownie mix to heat things up in different ways as each element of cinnamon,cayenne pepper, and ginger adds a bit of "heat" in their own unique way.
HOT LOVE BROWNIES
_________________
Ingredients:
Combine in a separate bowl:
* 1 cup all-purpose flour
* 1/4 cup cocoa powder
* 1 3/4 teaspoon ground cinnamon (a traditional hoodoo spice for warm, affectionate love)
* 1/4 teaspoon cayenne pepper (traditionally used in hoodoo to "take that fi-yah up a notch!")
* 1/4 teaspoon Ground Ginger (used in hoodoo to "heat things up" in a more subtle way)
* 1/2 teaspoon salt
Combine in a separate bowl:
* 1 1/4 cup granulated sugar
* 1/2 cup, packed, brown sugar
* 1 cup butter (two sticks) at room temperature
Combine in separate bowl:
* 4 eggs (beaten with a whisk or a low setting on your mixer)
* 2 teaspoons pure vanilla extract
* 1/4 tablespoon corn oil (can substitute vegetable oil)
Additional:
* Sparingly add cold brewed coffee as needed for moisture (no more than 1/4 cup total)
Equipment:
Hand mixer or counter top mixer
Wire Whisk (optional)
Rubber mixing paddle or scraper
Rectangular baking dish
Secondary cookie sheet
Cutting board or wire rack (for cooling)
Parchment Paper or Aluminum foil
Cooking Oil spray
Preparation:
* Preheat oven to 350°, and line a rectangular baking dish (either a 9 X 13 inch or a 12 X 7 inch) with enough parchment paper or foil so that there is a slight overhang (for easier removal), and lightly mist with cooking spray; place the prepared baking dish on cookie sheet baking sheet.
* Sift together the flour, cocoa powder, cinnamon, salt, and cayenne pepper, and set aside these dry ingredients.
* Place the butter in a bowl and use your hand mixer/countertop mixer on low to cream, adding sugar in small amounts until well whipped. Set aside.
* Whip the eggs together with the oil then add then slowly to the butter/sugar mixture.
* With the rubber paddle/scraper, fold in the dry ingredients into the mixture in small amounts, and gently fold over and over those in until they are incorporated, taking care not to over-mix.
* If the mix appears too dry, add cold, previously brewed black coffee (from the morning's coffee) in one teaspoon amounts until you determine that the mix is moist. USE SPARINGLY.
* Pour the batter into your prepared pan, and set the smaller baking pan on the larger cookie sheet. This is to make sure heat is evenly distributed over the entire length of the bottom of baking pan.
* Bake for about 55 minutes, checking at that time, or just until a toothpick inserted comes out fairly clean. (it's not quite the same doing a "toothpick test" on fudg-y brownies as these brownies are more "cake-like" and you still may get a little batter, but it shouldn't be too wet.) If in doubt, bake 5 minutes more, making sure you are close to the oven to continue to check at that time.
* Allow to cool in baking dish for about 10 minutes, and then using the overhanging parchment paper or foil, lift the brownies out and allow them to completely cool on cutting board or wire rack and to set and firm up for you (which can take 3-5 hours!) before cutting.
NOTE: For those not accustomed to spicy foods, having a glass of milk to sip close by as it helps to temper their taste buds and tongue if necessary, and will help you enjoy these spicy little bites of hot love deliciousness!
————————————————-
* Free Candle Spells *
————————————————-
Freecandlespells.com and www.free-candle-spells.com is a place to read about all things candles, rituals, herbs to use, oils to use, Moon cycles, and much, much more! With over 10 + years of writing, this blog covers many subjects and once you start reading, you can't stop. Curl up with your tablet and read more at www.free-candle-spells.com
————————————————-
* Lucky 13 Clover Spiritual Supply *
————————————————–
All Love products 
Candles! Oils! Sachets! Oh my!
Use code FEB2021 
for 21% off all love products
Look for more at your quality small batch produced all natural oils at www.lucky13clover.com
———————————
That's it for now! May everyday be blessed for you.
Jacqueline
www.tarotbyjacqueline.com
www.free-candle-spells.com
www.lucky13clover.com