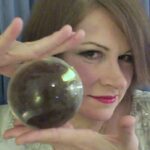 It is the the end of 2011 and time could not have passed so quickly as it did this year. There were many "survival" stories and many surprises for many of you, and I congratulate each and every one of you that has made the changes you had to in order to reach this point in your life.
One of my predictions this year is that the Yoruba Goddess Ochun/Oshun/Oxum will be one of the two ruling Orichas in 2012 and you can be assured that the number 5 will play an important part in your life this year. Ochun/Oshun/Oxum is the goddess of love, money, prosperity, sensuality, and all the things that make life sweet. Burning a golden yellow candle each Friday of this year pays homage to her and attracts these qualities into your life. Maferefun, Yeye!
Another way to prepare for the upcoming year is to participate in the 5th Annual Banishing Negativity Burn on New Year's Eve. Each year, I burn tea light candles, petitions, incense and black poppet dolls named for certain people in your life that have been tormenting you. This ritual is to release all negativity in general and also from those who delight in giving you grief, so that you may move forward in your life and leave them in the dust! This ritual, performed in a fire pit in my back yard, has photos for you to view as the ritual progresses, and can only be viewed by the participants like yourself.
For more information on how to participate in the New Year's Eve Banishing Negativity Burn Ritual, please click here.
Blessings of prosperity and abundance to you and your loved ones and your progeny,
Jacqueline