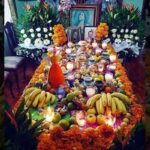 Maybe more than ever, the emotional tug of "family" has been a focus of the last two years. Whether you call those who share your DNA your family, or friends and associates that you relate to, or even a little of BOTH – they are your family and you have kindred spiritual connections with them.  Despite being far or close, you share related experiences and ideals that bring you closer. It makes you (and them) cherished and appreciated for their existence.
In the next three days – also known as the days where "the veil is parting (or thinning)", many speak of connecting with their Ancestors and others who have passed, in order to relay the messages that they are missed, and their time on Earth was appreciated as to what they shared with the living.  Many do not know how to connect with those that have departed, and here is a very simple offering table for those who have passed, so that you can show your appreciation and take time to rest in Spirit and maybe even obtain a message or two!
SIMPLE OFFERING TABLE FOR THOSE WHO HAVE PASSED
Items needed:
2 wine glasses (I suggest going to Dollar Tree or using mismatched ones from your cabinet that you will not need anymore)
1 Shot glass (one that you will not need anymore)
Small bouquet of flowers (usually white carnations or roses – your choice) in inexpensive vase.
1 white votive (if for the evening) or 7 day "novena" type (if for the week)
1 plate (Dollar Tree or odd ball one from cabinet that you will not be using again)
Slice of sweet cake, sweet bread, Pan de Muerto, cupcake, pastry
Tobacco (Usually a cigar – a treat for special occasions)
White Rum (small "shot" serving)
Water
Wine or Champagne
White table cloth on table
Chair
Notebook, paper and pen/pencil
Florida Water or Kananga Water
*  *  *  *  *
Set table with table cloth; add flowers in center back of tabletop. Place candle in fire-safe container in front of flowers. At this point you can add a photo of your loved ones on table (left and right of candle). Fill one wine glass with cool water and set to the left of flowers/photos on tabletop. Pour wine/champagne in other wineglass and set to right of flowers/photos. Pour rum in shot glass, set in front of flowers and behind candle. Add plate of sweet cake on table somewhere. Light candle with lighter (no sulfur from match tips here).  Light the cigar and set in fire-safe container or ashtray, allowing the smoke to waft over over the area. Add any other item you wish that you think was enjoyed in life.*
Cleanse yourself and get comfortable in chair in front of altar, notebook on floor to your side. Take Florida Water or Kananga Water and cleanse and bless yourself, then flick some from your fingertips onto the table. Light candles. Sit either quietly and mentally send thoughts to your loved ones – or – pray out loud/chant/sing the same thoughts. You may play music to create a celebratory (because it is after all) scene. Dancing is allowed, if you want. Make this an event with others or celebrate solo, if you want.
After a bit of music, merriment or quiet interlude, sit in front of your altar in the chair provided. Take up your notebook and pen/pencil, and sit quietly and breathe in the aroma of the rum, the sugary sweetness of the cake, the lingering aroma of the cigar, the odor of the wax. Mentally or quietly pray selected favorite prayers or consider using excerpts from Allen Kardec's "Collection of Selected Prayers". Sit quietly and write down any thought that crosses your mind however intangible or discarnate. If your mind floats to Aunt Lulu, tell her "Hello!" and ask her for any information or messages. If information comes to you without a face, location, or any other relation to you, write it down, and wait for additional information.
When information has ceased coming through or you experience fatigue, verbally or mentally give thanks for the messages that came through. Set notebook on chair or corner of table. Leave candle to burn out (IF in fire-safe container – or – blow it out.) Leave table set up until the next day. Retire to shower and then rest for the rest of the day/evening.

When disassembling the table, toss water and wine/champagne outside at the edge of your property and smash glasses on ground. Pick up glass (carefully) and toss in trash can. Toss candle wax and other offerings in trash can. Take sweet bread and crumble near trees or grassy area for the birds. Take plate and smash it into pieces on ground. Toss in trash can. Take flowers outside and leave in a quiet area.  Backyard is fine for suburbs or corner of building if in the city. Sprinkle the bouquet with Florida or Kananga Water.  Set shot glass of rum near flowers. Leave unlit cigar near flowers. Walk away, do not look back, do not retrieve shot glass or vase.
Take time to delve into the messages given as sometimes the entities that 'speak' to you are not ancestors or loved ones. Ask living family members or others who may know about the subject of your messages. They will validate if you were actually communicating with your relatives. Keep the notebook and, if you wish, consider doing this seasonally throughout the year, as a newly adopted ritual to further your spiritual walk.
*  *  *  *  *
 * Some items to consider:
Favorite food (tamale/soup/other)
Coffee (black/sugar/cream served in cup that will not be used by a human again)
Cigarettes
Gum or Candy
Favorite liquor