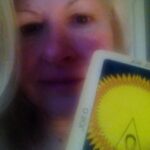 "Koinkidinkys" (pronounced co-INKY-dinkies) is the word I use to describe coincidences – a term that Wikipedia calls 'is a remarkable concurrence of events or circumstances that have no apparent casual connection with one another'. The description goes futher to state that the perception of remarkable coincidences may lead to supernatural, occult, or paranormal claims, or it may lead to belief in fatalism, which is a doctrine that events will happen in the exact manner of a predetermined plan.  Whatever it is, these events come to me time-to-time, and in the most amusing ways, like when my guy and I have rock star word jousts, a series of witty statements we toss back and forth about lyrics, musicians, and other events surrounding the two.
The song, "Where Do You Go My Lovely", a hit in the '90's by a band called No Mercy, has been spinning in my mind on and off the past few days. I get these from time to time – popular culture call them "ear worms", "brain worm",  "stuck song syndrome" or "musical imagery", where a memorable or 'catchy' song, lyrics, or musical composition continuiously repeats itself in a person's mind after the song has finished playing or does not come up in conversation. Researchers have found that sometimes a song comes to mind when the person can relate an experience to the lyrics or title of the song, or the song itself reminds that person of the experience – whether good or bad. The information produced on the Internet is fascinating and the motion picture industry has even created films about the subject.

The coincidence is that song came to mind again when I pulled out my Miss Cleo's Tarot Power set, complete with cards, a VHS tape of Cleo (never viewed and still in the original shrink wrap) and a 90 page copy of "Keepin' It Real – A Practical Guide for Spiritual Living" (pristine and no creases/never opened) allegedly written by Miss Cleo. I am about to give you a little secret – psychics keep relics of other psychics and tarot readers and such.  I know far too many people in this and related professions that have an old autographed copy of someone's book, a copy of an old poster of the person, or even – gasp – old decks of tarot readers that their offspring posted up on eBay (shhh, I'm keepin' it on the low-low).
This is on a day that – ironically that – is the release date of a HBO movie about her life titled "Call Me Miss Cleo". The. Exact. Release. Date. I did not know that there was a movie and that yesterday – December 15th – was the release date. I just happened to pull the box out of another packing box that I have failed to completely empty since moving back East. More than a 'koinkydinky'; this was a sign if not it ever was.
Later last night, I am scrolling in my e-mails and I came across a link to a blogpost I read and clicking on it, it takes me to the site that I see that one of the authors had written a recent post. When I open up their page, I see that this writer posted an article on December 11th, and included her video copy of an old zoom-like conversation with Miss Cleo.  Surely, the events are more than coincidental – I feel there is a message there somewhere. For a television-and-stage-actress-and-playwright-to-late-night-queen-of-psychic-television-celebrity to somehow come into my mind on that day of yesterday, by calling my hands to pull out her box, to hearing an old boy band song from my dancing days, seems like something more.
"Where do you go, my lovely? I wanna know…"
I will have to see what today brings.