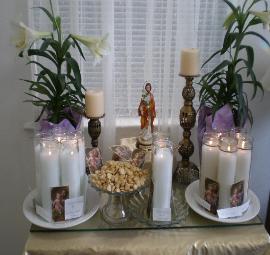 It is spirit of Human Nature for a person to look for solutions to contrary issues and uncomfortable problems in their life and seek out ways to gain more or achieve success in areas of their lives. We all want to be successful and loved. People want to feel as if they are controlling their lives in all aspects of financial, relationships and career. This takes decisive planning, timing and good ole'fashioned work, but not everyone is in compliance with the ethics of working towards that goal. Some choose to deflect their involvement in moving towards their goals by releasing control over a situaion by using magical forms of influence and blessings to solve their problems. This is the absolutely WRONG way to achieve success in any area of your life.
Utilizing magic, whether it is spellwork or just burning a candle, is not for the lassez-faire. It is WORK, plain and simple.
A man called me once, asking for a Money Drawing candle to be burnt for him, of which I did. He was interested in purchasing a home for his family to reside, and said he just couldn't get enough money to save. The candle burned well; traditionally beliefs hold that it was a "good burn", an indication of good fortune to come.
He called me a few months later, stating the candle burned for him did not seem to work on his behalf. I asked him what his chosen career. He said he was receiving disability since he obtained an injury and has not worked for some years.
I asked him, "Did you believe that the candle would move Congress in a way to give you a raise? An increase in disability payments happens once a year in July (this was March) when Congress passes the new fiscal budget." The man was quiet on the other end of the line.
I told him, "Despite your disability, you have functioning of certain parts of your body and can create something to sell to increase your wealth. Tie fishing flies, do woodworking, become the neighborhood handyman for small odd-jobs like replacing a screen or painting some cabinets. Look into doing some other things to sell on ebay or at the flea market. Truly you cannot believe the candle was going to do all the work for you, right?"
He said that he did. 
What was needed at the time of ordering the candle to be lit is a clear and decisive plan on working to capitalize on the candle's petition energy to get ahead and accomplish something. Ordering a candle without intention is like spending money on novelties and amusements that do not have any real lasting qualities. It is energy not utilized for the most effort of advancement that could have been realized.
Another person ordered a Crown of Success candle to be burned for her and her job application success. I burned then candle and sent the results to her in an e-mail. She replied that she did not hear from any prospective employer. I asked he if she went out that week and passed out resumes and put in applications. She replied that she did not, choosing to stay home and wait for someone to contact her. Another missed opportunity for meeting people and getting yourself noticed for a future with that possible employer.
Emphasizing that burning a candle is a constant petition to the Heavens above, that the benevolence and blessings that are in store for you are being petitioned during that candle burn, it is important that you, the one who is having the candle burned for you, get out and make those contacts and use your time wisely to brainstorm for new and innovative ways to increase your blessings.
If you are considering to have candles burned on your behalf, you may order them here:
https://tarotbyjacqueline.com//candle-spells