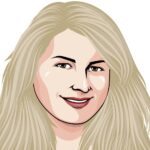 It's that time again! Fireworks, family, and fun! A perfect combination for Mercury to stage a Retrograde session in. Yes, Mercury returns to cause drama between the family from June 18 to July 12, 2020. You can read more about it in the blog post posted on the home page here at Tarot by Jacqueline.
In addition to Mercury's hi-jinx's, we also have other planetary features happening that will have an effect on your world. We have a penumbral Lunar Eclipse in the late evening of June 5th (early morning June 6th for some). Lunar Eclipses are intriguing because they occur very close to a Solar Eclipse and this one will bring with this lunation  is within the Moon being in the sign of Sagittarius, the Archer. At the time of this Lunar Eclipse, the Sun is in opposition to the Moon, and the energy created could be the catalyst of a "Us vs, Them" situation, Polar opposites will be strained and relationships will be put to the test. Remember that old school song, "Thin Line Between Love and Hate" by the Persuaders? That's how some people will feel during this time. The frustrated World will have its patience tested with inner tensions may lead to a lack of self-control. Love, kindness, patience is STRONGLY URGED now. Take a deep breath before you say or do anything.
The Solar Eclipse on June 21st will also be a double shot of cosmic energy because the 20th is the Summer Solstice, and the longest day of the year. This is a celestial marking of the height of summer, yet most people not too familiar with astronomy and astrology will believe that summer has just begun. Those who work with the Moon and Sun cycle of the Year know that on June 20th, we start that slow march to Fall and the end of the year 2020.
~~~~~~~ Tarot by Jacqueline News ~~~~~~~
I will be resuming candle burning services on or about June 20th so plan for or pre-order your candles you want burned now as the candles will be burned in the order received (date time stamp) and like before, I will take a photo for you when your candle begins, pray daily over it morning and night, watch it for any unusual behaviors, then take a final photo and sent it to you with a brief synopsis of the candle burn.
~~~~~~~~~~~~~~~~~~~~~~~~~~~~~~~~~~~~~~~~~~~~~~~~~~~~~~~~~~~~~~~~~~
The Mid-Summer Prosperity Experiment month long Candle Service will begin July 1st! More about that soon!
~~~~~~~~~~~~~~~~~~~~~~~~~~~~~~~~~~~~~~~~~~~~~~~~~~~~~~~~~~~~~~~~~~
The Summer Reading Schedule was posted in early May and these time slots and prices will be in place until late August. Remember that the first two early bird morning reading times are a super deep special price, just because I am an early riser and for those of you who are too, I wanted to give you a little gift of a quiet morning before you start your busy day.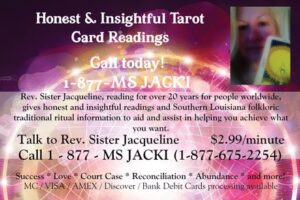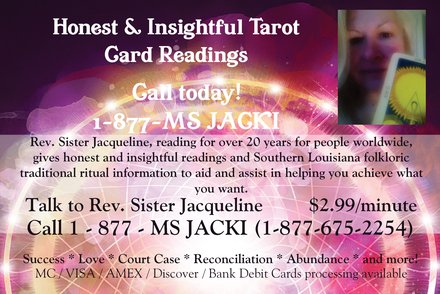 The 1-877-MSJACKI quick question line has become very popular for those who just want a peek into the events of the weekend or day, without a whole reading. Just $2.99/minute daily from 7 am Eastern to Midnight Eastern time (unless a holiday or a private event).
~~~~~~~ Lucky 13 Clover Spiritual Supply ~~~~~~~
Summer is the time when I can sit down and create new formulations of Oils and Sachets, so look forward to new products and prices soon. I literally had to "drop everything" when the pandemic began, and it will be great to be blending again. Shipping will resume June 21st for all order and I thank you for your patience during this time of coronavirus.
~~~~~~~ Free Candle Spells ~~~~~~~
Always a great site for research, investigation and information, read about just about all things candles at www.free-candle-spells.com
That;s it for now. Stay safe and well,
Jacqueline
www.tarotbyjacqueline.com
www.lucky13clover.com
www.free-candle-spells.com