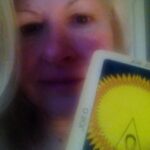 Greetings!
April begins the time that I take for myself and my family. I will not be doing candle services from now until mid-June as I will be traveling, teaching, learning, and more and will not be available for the blessing, lighting and monitoring of candle burning services. I will notify all of you whenever I return to resume these services.
I will also be taking April 1 – 4 as a break from spiritual readings to reflect on the Passion of our Lord. I will be available on April 5th to resume readings so please refer to the calendar for days and times of availability.
NEW READING SCHEDULE COMING APRIL 5th
I will be posting a new reading schedule to reflect the extra amount of daylight we have in the evenings. Please look for the posting on April 5th.
Recent article posted to the Tarot by Jacqueline website:
"Round and Around and Around and Around We Go"
https://tarotbyjacqueline.com/tarot-by-jacqueline-round-and-around-and-around-and-around-we-go/
**********************************
MAGICAL DAYS IN APRIL
* April 1 – Maundy Thursday – Also known as Holy Thursday, it is named Maundy Thursday as Maundy is an old Latin word meaning "command". This is the day that Jesus has his Last Supper with the 12 Apostles and the evening that he is betrayed by Judas Iscariot.
* April 2 – Good Friday – The day Jesus was nailed to the cross.
* April 4 – Easter – Happy Easter to All!
* April 12 – New Moon in Aries
* April 19 – Feast of St. Expedite – Patron Saint of New Orleans. Read articles about St Expedite by clicking this link:
https://free-candle-spells.com/category/st-expeditesan-expedito/
* April 27 – Full Moon in Scorpio
————————————————-
* Free Candle Spells *
————————————————-
Freecandlespells.com and www.free-candle-spells.com is a place to read about all things candles, rituals, herbs to use, oils to use, Moon cycles, and much, much more! With over 10 + years of writing, this blog covers many subjects and once you start reading, you can't stop.
Curl up with your tablet and read more at www.free-candle-spells.com
————————————————-
* Lucky 13 Clover Spiritual Supply *
————————————————–
We will suspend shipping of all orders until June 15th due to our seasonal break.
———————————
That's it for now! May everyday be blessed for you.
Jacqueline
www.tarotbyjacqueline.com
www.free-candle-spells.com
www.lucky13clover.com